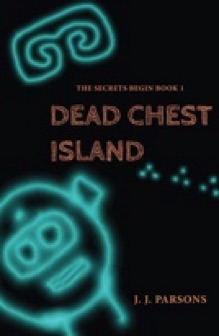 Is there a secret tunnel on Dead Chest Island?
Sitting beside a smokey fire, Edison and his new friend Jonathan hear a curious tale of pirate plunder and a boy who is violently swept into an underwater tunnel on Dead Chest Island.
Is the tunnel really there and where does it lead? Edison and Jonathan devise a crazy scheme to borrow a boat and search for the tunnel.
Edison's loudmouth sister, Charlotte, is a vexing last-minute participant in the quest. They set off on a sunny afternoon, planning to return in time for supper. But the boat motor sputters and dies, triggering an amazing chain of events.
Find out how the three adventurers deal with a treacherous tidal wave, shadowy dolphinbots, puzzling petroglyphs, secret submarines, a mysterious crystal, and a seriously evil band of spies.






Chapter 1
Edison looked out the hotel room window just in time to see a speckled chicken fly by. Seconds later, the chicken slowly floated up outside the window sill. It hovered with its narrow beak pressed against the glass. Staring.
Samuel and the Pirates
Read the legend that launched the adventure in search of the mysterious tunnel on Dead Chest Island.
Read Samuel and the Priates...
Incident at the Airport
What happened to Edison at the airport when he arrived in the Caribbean?
Read The Incident at the Airport...
Middle-grade Book Lists
Looking for more adventures?
Traveling to the Caribbean?
Edison has tips on what to take and what to wear.
Ages 8-12
Edison Jones adventures are perfect for girls, boys, and dolphins ages 7-12 who are fascinated by the "secrets" of science and the "magic" of technology.
Draw your own petroglyphs
Those glowing petroglyphs look pretty cool. Kids can draw them too using the Glow Draw app. It's easy!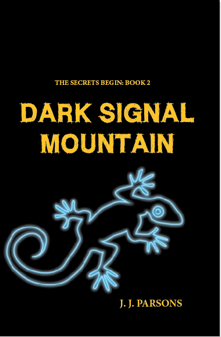 The Secrets Begin: Book 1
What are the mysterious lights on Dark Signal Mountain?
A strange light shimmers on a mountain top. Three children lie perfectly still in the bottom of a boat, like vampires in their coffins. An unexpected telegram arrives about a person who is presumed dead. A boy with a superhero fantasy whispers "You are not safe!".
Edison Jones, his sister Charlotte, and their friend Jonathan careen in and out of danger as they try to track down a mysterious crystal. The hunt takes them through the twisty paths of a Caribbean shanty town, to the crumbling ruins of a sugar plantation, and up the treacherous path to Dark Signal Mountain.
Book 2 of The Secrets Begin series offers plenty of action and mystery for inquisitive readers who like adventure stories mixed with lots of surprises, quirky characters, and fun.
The Secrets Begin: Book 2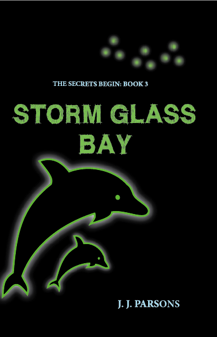 Who built the cage in the murky mangrove swamp?
First, there is a puzzling piece of shell that seems to be a whistle. Then a strange galss globe drops through a whirling waterspout.
Dolphins lead Edison, Charlotte, and Jonathan through a creepy mangrove swamp to a rickety dock and a locked cage. What they find remains a mystery until a stilt-walking Edison helps police unravel a case during the island's fun-filled Carnival parade.
Be prepared! Book 3 of The Secrets Begin series keeps you guessing. If you see a fin cutting through the water, is it a shark or a dolphin? Can a mysterious whistle teach bullies a lesson? What happens if you meet a jumbie in the dark? Can you figure out the secret language that Edison and Jonathan use to communicate?
The Secrets Begin: Book 3