Little feet get hot in the sunny, humid Caribbean, so plan to take those sneakers off once the plane has landed. Everyone wears sandals in the tropics. If you're bringing one pair, make sure they'll work for hiking, touring, and hitting the beach.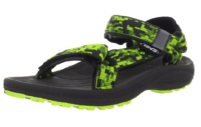 Love the Camo version of this Teva sandal. Also, the web straps dry quickly.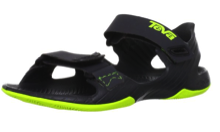 Edison's favorite. Sturdy, comfortable, and inexpensive. This sandal works for girls, too.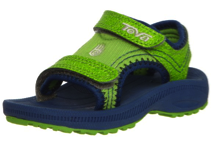 Sturdy, comfortable, good traction.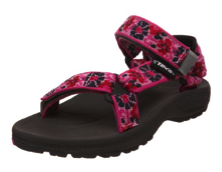 Webbed straps dry quickly. Sturdy sole and padded heel for comfort.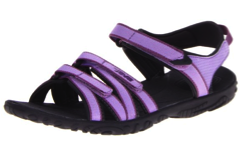 This sandal is Charlotte's favorite. All synthetic, antimicrobial materials. These sandals are really cute and come in fabulous colors. Velcro strap.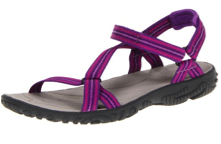 Fast-drying, but maybe not the most comfortable sandal for hiking because of the narrow straps.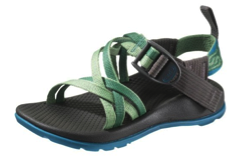 A bit pricey, but really cute and comfy. Note the plastic buckle is not as convenient as velcro.
Charlotte loves her Havaianas, but she admits that flip flops aren't all that comfortable for long hikes. She packs flip flops and a pair of sturdier sandals for adventuring. She also loves Keds sneakers in classic white. It's what she was wearing when she got stranded on Dead Chest Island.
Edison was not wearing sandals when he and Jonathan headed out on their quest to Dead Chest Island. His sneakers got wet more than once during his adventure. His feet would have been much happier in a comfortable pair of sandals.
• Avoid leather and nubuck. In the tropics, shoes can mold overnight.
• Look for a non-skid bottom. There's lots of rain, which makes floors wet and slippery.
• Look for sandals with an ankle strap. They'll stay on better than flip-flops when kids wade in water.
• Check the size range. Look for sandals that are available in Big Kid sizes for 8-12 years old.
• Rinse your sandals in fresh water when you return from the beach.
• When boating, use the ankle strap or velcro to fasten sandals to the boat so they don't tumble overboard.
• When kids put on sneakers, look inside first to make sure some nasty tropical bug hasn't made a home.