SNORKELS: WHAT TO LOOK FOR
You're going to go snorkeling, right? It is the best way to see the incredible underwater world of the Caribbean.
Edison recommends that kids take their own snorkel and mask because then you'll be sure that they fit (and you can be sure they don't carry someone else's germs.)
Fins are big, heavy, and clumsy to pack, so you don't need to take them. You can rent fins just about everywhere.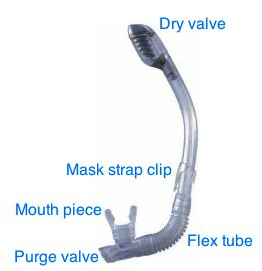 Buying a mask and snorkel set is cheaper than purchasing them separately. Here are some favorites.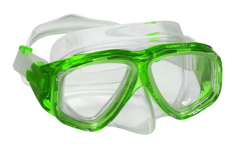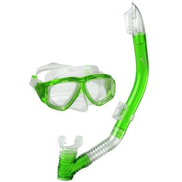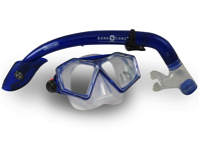 This Speedo combination mask and snorkel is good quality for the price.
This comfortable diving mask from Scuba Snorkeling Dive fits smaller, narrower faces. The tube is fixed, but the angle should be correct for most swimmers.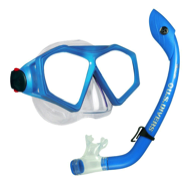 Similar to the dark blue set above, the U.S. Divers Molokai Island Jr. Youth mask is available in aqua and hot pink.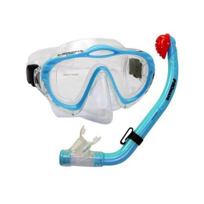 The PROMATE Junior snorkeling mask is ideal for youth and small adults. Dry valve, but not a flex tube.
• For kids under 12 and small adults, kid-sized snorkels have a smaller mouthpiece that will be much more comfortable than one sized for a large adult.
• A kid-sized tube has a slightly smaller diameter. The tube size reduces the amount of exhaled air that is rebreathed by kids who have smaller lung capacity than adults.
• Look for a "dry snorkel" that has a special valve at the top to keep water out if a wave washes over it.
• Choose a snorkel with a flexible tube. It will adjust allow the mouthpiece to adjust more comfortably.
• Get an "official" face mask that covers eyes and nose. Swim goggles are more compact than a mask, but they are not substantial enough to hold a snorkel in place.
• To get a good fit, kids can hold the mask up to their face with the strap out of the way. Breathe in through your nose. If the mask "sticks" to your face, then it is the right size.
• Kids who wear glasses might consider a mask with prescription lenses. They are a bit pricey, but worth it if you plan more than one trip to places where kids can snorkel.
• Masks can fog up from the difference in temperature between it and the water. To prevent fogging, you can rub some spit around inside the mask. If that sounds gross, consider buying a small bottle of antifog spray. (Don't pack it in a carryon as it is more than 2 ounces of liquid.)